Religion
Faith formation is provided five days a week to all students in PreK through 8th grade through daily religion classes. Each morning all students begin the day with the Pledge of Allegiance, mission statement, and prayer. Our entire school community celebrates Mass together weekly. Sacred Heart School is blessed to have five parishes feed into the school: Holy Spirit in Hernando, MS; Good Shepherd in Tunica, MS; Queen of Peace in Olive Branch, MS; Christ the King in Southaven, MS; and St. Gregory Catholic Church in Senatobia, MS.
STUDY
The religious education program is designed with the o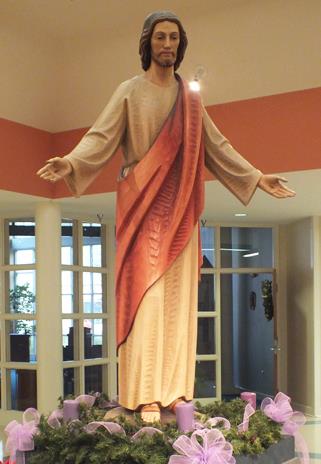 bjectives established by the Catholic Diocese of Jackson.
SERVICE
Our Service Learning Program provides students with an opportunity to put their faith into action. Each month we highlight one of the thirteen social services ministries supported by Sacred Heart Southern Missions. The students often hear from a representative of the ministries and hold a monthly denim day donation to make a small financial contribution. Our older students have various Day of Service opportunities throughout the year. They participate in a monthly mobile food pantry, Thanksgiving Baskets, and Christmas Angel Tree projects. All families have the opportunity to make greeting cards during the year for elderly clients served by Sacred Heart Southern missions.
SACRAMENTS
Students of appropriate age receive weekly Communion and attend Penance Services twice a year. Sacramental Preparation is provided in the 2nd grade religion class for First Communion and First Reconciliation.
In Love with God and God's People
Fr. Leo John Dehon, founder of the Priests of the Sacred Heart, valued a spiritual life that always led to action. Members of his religious Congregation celebrate him on the occasion of his birthday, Friday, March 14.
Dehonian Network of International Schools
Fr. Dehon's work for education left a lasting impact on his religious community. Today, there are more than 50 schools world-wide sponsored by the Priests of the Sacred Heart. The International Education Committee meets several times a year to assist schools in developing a Dehonian Curriculum. This year the international schools will use the theme: Sint Unum meaning We are One.
Schools in North Amercia sponsored by the Priests of the Sacred Heart form a Schools in Collaboration Network of Schools. The schools' principals meet monthly to discuss common projects between their schools and European schools. Each year a Summer Institute is hosted by a different school. This allows middle school students the opportunity to meet with students from other schools within the collaboration.
Fr. Dehon's Life
Although his parents initially resisted his desire to be a priest, Leo Dehon respectfully but with sadness set aside their wishes. His four doctoral degrees did not distance him from people, but enabled him to address creatively the needs of the oppressed factory workers in the town of his first parish assignment. For his efforts to awaken the conscience of priests to pressing social issues, he was branded a socialist.
Longing to sustain his spiritual well being amid much pastoral activity, Fr. Dehon founded a religious Congregation of men in 1878. However, his misplaced fervor overshadowed his good sense and this caused the Church to dissolve the community. By totally accepting this crushing decision as God's will, Fr. Dehon opened the way for the Church to reconstitute the Congregation under a new name and on firmer ground.
Opposing an anti-Catholic French government, Fr. Dehon established a Catholic school and fought for the right to maintain his personal property. When he sent his first missionaries to the Congo, his critics called the decision "a mad venture," but today the Priests of the Sacred Heart serve in 40 countries.
Looking back, Fr. Dehon noted the many crosses in his life and admitted that he made mistakes. His followers noticed that he was a man who was in love with God and who used his keen intellect, spent his inheritance, and risked his personal honor for the benefit of the most vulnerable of God's people.
Each day, members of the Priests of the Sacred Heart make an offering of themselves to God, so that, faithful to the vision of Fr. Leo John Dehon, they spend their lives as prophets of love and servants of reconciliation.